Welcome to St. Barnabas'!
St. Barnabas Sunday
June 10, 2018
Combined Service at 10:15 a.m.
Followed by a Parish Potluck Luncheon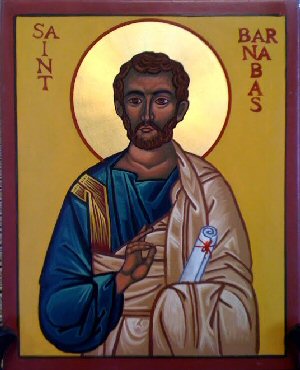 Regular Sunday Schedule: Holy Eucharist at 8:00 a.m. and 10:15 a.m.
9:15-10:00 a.m. Christian Formation for all ages
Nursery care begins at 9:00 a.m.
Wednesdays
Join us Wednesdays at 10:00 a.m. for worship in the Parish Library.
Holy Eucharist and Healing are offered on the first Wednesday of the month, and Morning Prayer on the remaining Wednesdays.
---
---

---
Helpful Links:
(Please use the drop-down menu to select the destination for your contribution. You also will have an opportunity to make a remark in the Memo section.)
Thank you for your generosity.
---
We are a worshiping community.
We believe that regular worship, hearing Holy Scripture, and celebrating Holy Communion are the foundations of our faith and spiritual growth.
We are a learning community.
We offer Christian education for all. Young children learn through parables and sacred stories in Godly Play. Older children and teens embark on the Journey to Adulthood, a youth program for spiritual formation. Adults attend the Sunday Forum, where we share lively presentations and discussions on spiritual issues and current events.
We are a giving community.
St. Barnabas' has many outreach programs targeting needs in our own community and around the world. We give generously of our time, talents, and resources, contributing thousands of volunteer hours with open hands and open hearts.
We are a diverse community of faith.
Our church community is inclusive and welcoming to all. We invite you to experience with us the love and caring of the community that is St. Barnabas'.
---
Worship Services:
Sunday: 8:00 am Holy Eucharist
9:15 am Christian Formation for all ages
10:15 am Holy Eucharist; Children's Chapel
(Nursery Available)
Wednesday: 10:00 am Wednesday Worship
St. Barnabas' is a handicap-accessible facility.
---
The Rev. Canon Carol Cole Flanagan, Interim Rector
Young Min Kwon, Interim Minister of Music
Catherine Dubas, Parish Administrator
Maria Bottlick, Bookkeeper
John J. Otwell, Sexton
---
Thank you for your generosity.