Fellowship
St. Barnabas' is a community known for its hospitality and fellowship. We enjoy many opportunities to be together, and we welcome new people to join us!
Sunday Coffee Hour
Coffee Hour is a hospitality hour after each Sunday service where rotating hosts serve coffee, tea and lemonade, and breakfast snacks. We invite you to come for fellowship following worship.

Women of St. Barnabas' (WOSB)
The WOSB sponsors many functions at church, including women's retreats; educational talks on issues such as mission, world events, and contemporary life; and workshops on spiritual growth. The WOSB host several annual events, including a Christmas Bazaar, a Mardi Gras party, and a Mad Hatters Tea. The WOSB also organize receptions and meals for special occasions and funerals. Over 90% of the money earned by WOSB fund-raising activities is distributed to outreach programs supporting local community needs, as well as the activities of St. Barnabas'.
Men's Group Breakfasts
The men of the parish have an informal breakfast meeting on the first Saturday of each month. The group was started in 1990, and its purpose is to promote the spiritual growth of the men of St. Barnabas' and encourage them to help others. Please contact the parish office for details.
Shrine Mont Parish Retreat
In early fall each year, parishioners of all ages head to Shrine Mont, our Diocesan Camp & Conference center in the Blue Ridge Mountains of Virginia, for a weekend of worship, fellowship, discussion, singing, and fun. Parishioners assist in planning the theme, leading worship, and providing entertainment. It's a wonderful opportunity to get away and find spiritual refreshment together! This year, the Parish Retreat will be September 27-29, 2019. Please contact the parish office for registration details.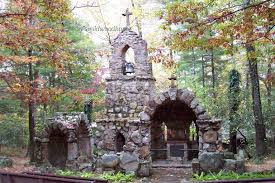 Ski Trip
The St. Barnabas' Ski Trip takes place over the Presidents' Day Weekend each February at Canaan Valley Resorts in West Virginia. Please contact the parish office for more details.