Christian Faith Formation for All Ages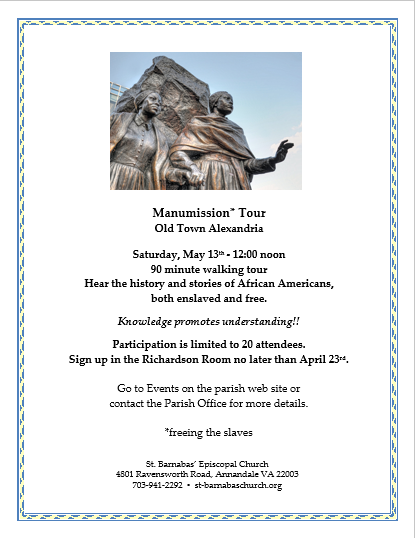 St. Barnabas' provides a community where we can all grow and support one another in our faith journey. All that we do together in worship and service leads us deeper into the mystery of our faith. We additionally provide regular classes and opportunities for learning and formation.
---
For Adults
Sunday Adult Forum
Adult Forum provides opportunities to experience a deeper spiritual reality through study and discussion. Areas of interest include an eclectic mix of topics related to world religions, book studies, liturgical practices, Bible studies, and current events, as well as presentations and discussions on special topics by forum members and guest speakers. The forum meets Sunday mornings between services from 9:15 to 10:00 AM in the Richardson Room (parish hall).
Easter Season - Interfaith Dialogue: Christians and Muslims talk, seeking knowledge and understanding.
Last year, Last year, Rich Geissler and Imam Mehmet Ayaz came separately to talk to us about how faith informs our political and personal lives. This year we will have Imam Mehmet and Rich together join us for two Sundays.
Rich Geissler has experience giving talks about Christian-Muslim Relations. He is an active Episcopalian and has certificates from the Virginia Theological Seminary Lay School of Theology and Evening School of Theology.
Imam Mehmet Ayaz serves at the Ezher Bloom Mosque and the Institute of Islamic and Turkish Studies. St. Barnabas' has been priviledged to share meals and fellowship with Imam Mehmet Ayaz and Imam Bilal Ankaya and their congregation.

Seasonal Retreats and Discussion Series
St. Barnabas' offers Retreat Days during Advent and Lent, as well as a weekly supper-and-discussion series during the weeks of Lent. The annual congregational retreat to the Shrine Mont Retreat Center is another opportunity to grow in faith while building and strengthening friendships.
For Youth
Journey to Adulthood provides a complete youth program of spiritual formation for 6th - 12th grades. It uses Bible study, prayer, rites of passage, outreach ministries, and serious and playful activities to underscore its core messages:
Manhood and Womanhood are free gifts from God; and
Adulthood must be earned.
Rite-13
There are three two-year segments of the Journey to Adulthood program. The first two years (6th and 7th or 7th and 8th grade) focus on celebrating the individuality of each young person and his or her creative potential. The Rite-13 liturgy (A Celebration of Manhood and Womanhood) is the community expression of this focus.
J2A
J2A is the middle portion of the program (8th and 9th or 9th and 10th grade), engaging youth with the skills and critical thinking necessary for adulthood. It culminates in a spiritual pilgrimage.
Young Adults in Church (YAC)
This phase is a mentor-based program helping older teens (11th and 12th grade) to discern and carry out a ministry within their church or in the larger community. Vocation and development of personal credo are also emphasized.
For Children
Godly Play
Children ages 4 through fifth grade are instructed using Godly Play, Jerome Berryman's imaginative approach to working with children. Based on Montessori religious education, it is an invitation to play with the language of God and God's people through sacred stories, parables, liturgical actions, silence, and wondering. The classroom environment is structured to protect and guide children. This setting creates limits to ensure a place in which a creative encounter with God can flourish. We invite you to come play with us.
Children's Chapel
During the first half of the 10:15 Sunday Service, young children may attend Children's Chapel. There they hear the Bible story of the day and share their responses. They then respond by working on a craft project. The children return to join their parents in church in order to be with them during Communion. Experiencing Holy Communion is the most important Christian Education activity any of us can do!